Dunc has introduced a new project management process.
We've always had a system of sorts to help us keep on top of planning and booking-in renovation tasks. It was fine as a memory aid, but it lacked an essential motivational ingredient - recording which jobs had been finished. In the bad old days, completed tasks just got rubbed off a list; and if we were feeling particularly chuffed, toasted with a glass or two of wine. Fine for when things are sailing along and chipper moods prevail, but nowhere near robust enough to cope with restoration rip tides.
But that was then. Post-Rub-Out Regime, one of the white boards we conserved from Briarcourt's social services era is now 'populated' (I believe that's a database term) with mini PostIt notes, which get shuffled between 'pending' 'active' and 'done' columns as priorities change and projects progress.
By and large, I'm sure the new system is better - the 'done' column is currently looking very healthy. However, the PostIt note labeled 'BLOG POST' clearly has a stronger strip of gum pasted to it than any of the others. Over the last five months it has stuck resolutely to the 'pending' column and hasn't budged; leapfrogged again and again by less sticky jobs.
Today it graduated to 'active'.
It's hard to summarise all that's happened since April.
In the house, there's obvious progress to be found on the top floor, which now has reclaimed fireplaces installed in three of the rooms; new cupboard doors; fresh new plaster throughout; a newly decorated toilet and bathroom; and a 'robbing Peter to pay Paul' arrangement of floorboards - the better ones on show and sanded, the others to be literally brushed under the carpet.
On the first floor, we've got wallpaper up in one of the bedrooms; Dunc has painstakingly sanded the floor; we've discovered some original tiles and wallpaper; the wall lights which only used to work when there was an electrician in the building have now been counselled into being a little less temperamental; and we've sourced a stained glass chevron-laden door as an upgrade to its utilitarian predecessor.
The ground floor has seen wallpaper and a new (well second-hand) sofa arrive in the drawing room and............THE FRIEZE HAS RETURNED sans rips, emulsion paint, and general grime. Flaking sections of stone on the mullion windows have also received some well-deserved TLC. We've hosted a photo shoot, a charcoal drawing session, and had visits from two film-makers; we've had an expert confirm our windows are made by George Wragge; and we've welcomed visitors for Heritage Open Days.
It's been quite a summer.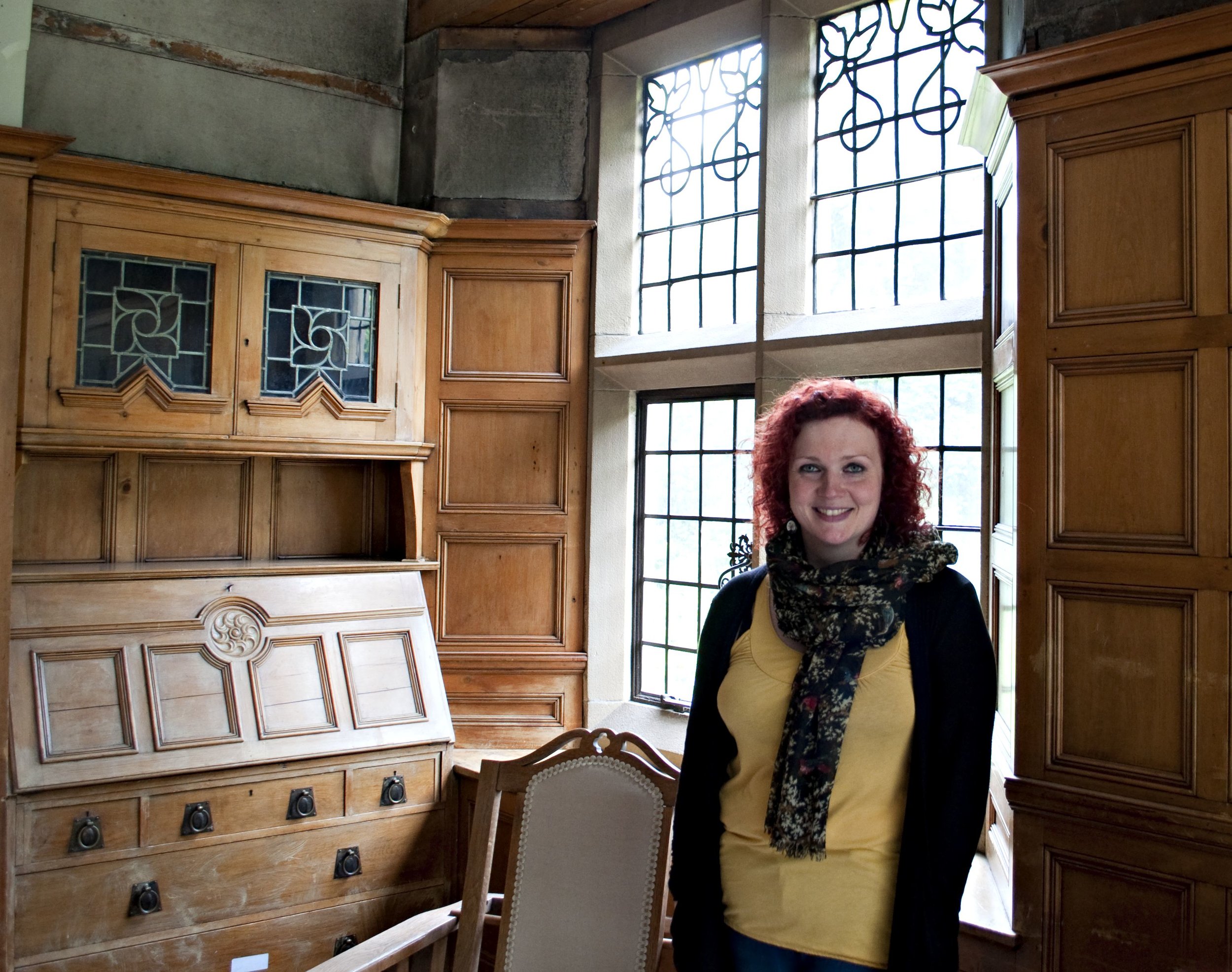 Outdoors, the garden has been a horticultural petri dish of very basic gardening experiments.........
........Ah......<incoming PostIt note>..........
Blog pushed back to 'pending' again!